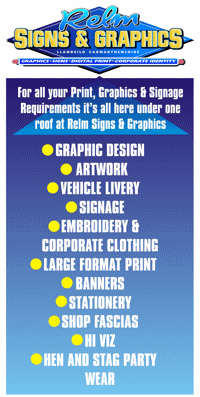 Vehicles

From one off van to your entire fleets application, Relm Signs can deliver an outstanding design to suit any budget. Vehicle graphics are a very effective advertising medium due to the wide exposure company vehicles gain on today's roads. It advertises your company 24 hours a day, 7 days a week and it's mobile so it reaches more people.

We can provide graphics for all types of vans, cars, lorries and even bikes. We can add any graphic including photos to your vehicle and produce text in any font, colour and size. We can digitally reproduce your logo onto your vehicle along with contact details and promotional messages. Our signs are fully waterproof, tough and durable. Relm signs can fit on site or at a location of your choice.

We can also create magnetic signs that can be applied and removed from your vehicle as you require. This can be very useful for small businesses that use the same vehicle for work and pleasure.
Contact us:
Panteg Villa,
Rhosmaen,
Llandeilo,
Carmarthenshire,
SA19 6NP
Tel: 01558 822226
Mobile: 07966 275008
email:sales@relmsigns.co.uk