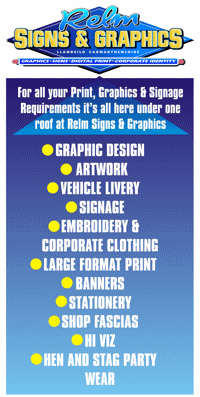 Signs

Signs come in a vast range of materials and finishes: acrylic 3-D lettering for shop fascias, safety signs, site boards, directional signs, aluminium road signs, "A" boards and many more. we offer a wide range of materials including fomex, aluminium, corex and can help you choose one to fit your purpose.

External fascias can play an important role in ensuring that you portray the right image to attract the right customers. We can offer a wide range of contemporary and traditional signage designs and materials.

Commercial premises by their very nature usually suit larger format signage. Estate directory signs, health & safety and suitable car park management and traffic flow control signage will ensure a smooth ride for visitors to your premises. Using the correct materials we can project your company name in the way that best suits your location and premises.
Contact us:
Panteg Villa,
Rhosmaen,
Llandeilo,
Carmarthenshire,
SA19 6NP
Tel: 01558 822226
Mobile: 07966 275008
email:sales@relmsigns.co.uk